Volunteer: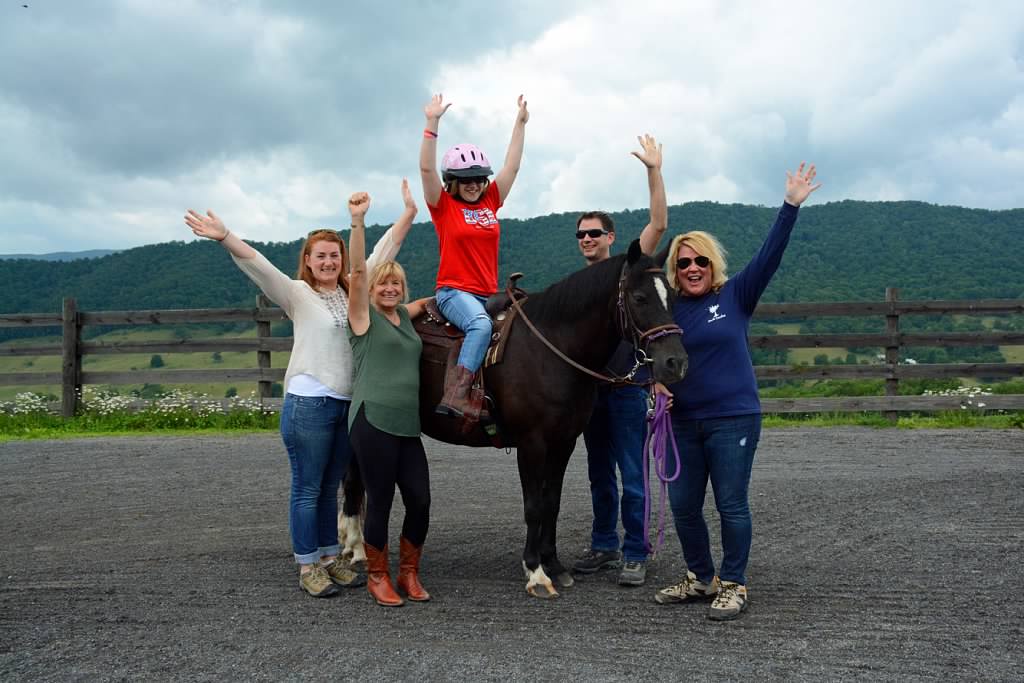 How can YOU help? Our programs are fueled by volunteer energy - and we are proud of what we accomplish. Dare to Dream invites you to get involved as a volunteer! Dare to Dream is primarily a volunteer organization; without our volunteers it would not be possible to provide quality therapeutic riding services to our community. Horse experience is helpful but not a requirement; in fact, you may possess unique "non-horse" talents that would contribute much to Dare to Dream in important and needed ways. As a volunteer at Dare to Dream, you will be part of a professional team that loves to have fun!
There are many opportunities available for individuals who want to volunteer. If you want to volunteer in any capacity, even if it does not fit in any of the categories below, please let us know.
Lead or sidewalk horses, or spot riders during lessons and horse shows
Assist with barn chores and the care of horses, before and after lessons
Photograph or take videos of lessons or special events
Set up the riding ring for games or other special lesson activities
Operate sound equipment for music during lessons or horse shows
Assist with clerical chores: file maintenance, inventory of supplies, making posters, organizing pictures, creating PowerPoint presentations
Provide minor carpentry assistance; help repair equipment and facilities
Assist with fund raising projects; write grants
Sew costumes for riders participating in costume classes or drill team exhibitions
Lend your special skills, such as signing, to assist special needs riders
REQUIREMENTS
All volunteers must attend a Volunteer Orientation and Training
Be minimum age of 14 years old
Be available on a regular basis for the riding session
Be reasonably fit in order to walk/jog in a sand arena and outside up and down hills
Possess sufficient strength to assist mounted riders at the walk and trot during lesson activities or in emergency situations.
To learn more about volunteering at Dare to Dream contact the office to schedule a time to come in and talk with the Executive Director. The Director will ask you to talk about your experience, interests, and goals, and will welcome your questions. The Director will suggest possible work assignments, discuss schedule options, and introduce you to the other staff. You will also have a chance to tour the Dare to Dream facilities and meet the horses! You will be under no obligation if you decide after all that Dare to Dream is not a "good fit" for you.
To become a Dare to Dream volunteer you will need to fill out and turn in the Volunteer Packet listed below. This packet contains all of the forms that all volunteers must complete and submit annually, and they must be on file at Dare to Dream before a volunteer can work. These forms are downloadable in WORD format, so you can print them for your use:
The Volunteer Packet which contains:
Volunteer welcome letter
Volunteer/Staff Information application
Liability and Hold Harmless Agreement
Authorization for Emergency Medical Treatment
Confidentiality Agreement
Rules and Policies Agreement
Complete the forms in full, and be sure to sign and date in all the appropriate places. Dare to Dream looks forward to welcoming you on board! It is our hope that you will be fulfilled here as you join our team in making our program a reality for challenged riders. It is an opportunity for you to discover your best self!
The crew below took time off from turkey hunting to do some carpenter work on the barn!